In this blog / article, guest writer Jack A. W. Bowman shares his experiences of researching the Pan African National Congress in Manchester. He offers insight into the Congress, but also how subsequent Black activists like Kath Locke continued its work in their local anti-racist activism.  
Please note: in this blog, he uses the term Black to mean of African and/or African-Caribbean heritage, rather than the broader usage of the term. This is in line with the Journal of Pan African Studies guidelines, which seeks to use 'affirmative African centred logic and language of liberation'.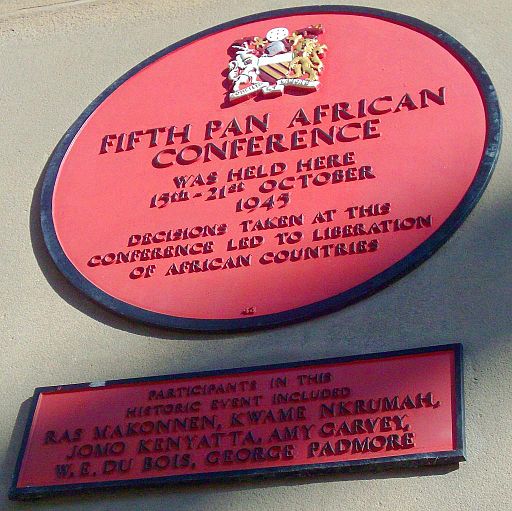 If the Black Lives Matter movement has taught us anything, it is that we need to value histories of race and inequality in Britain as much as we do our stories of past kings and queens. The recent debates about statues being taken down, from notorious slaver Edward Colston to the (at best) problematic Winston Churchill, has sparked a discussion about race and history beyond university seminar rooms. It is about time. However, whilst it can be difficult to begin these discussions in the first place, finding and accessing histories of race can be a harder task still. Until our nation's archives and historical institutions view the experiences and histories of Black, Asian and ethnic minority people as valuable and central to our national histories, primary source materials relating to Black histories (especially those recorded in the words and through the eyes of Black people) will be hard to find.
There are, however, some archives dedicated to Black, Asian and ethnic minority history and experiences, and working to make these part of our national story. And some of these are also dedicated to making their resources accessible and welcoming to everyone, not only academics and scholars. The Ahmed Iqbal Ullah Race Relations Resource Centre in Manchester is at the forefront of this new outward-facing approach from archives. The RRRC is located in Manchester's beautiful Central Library, and the archives' rich and varied collections are as impressive as the library's grand architecture.
This makes it an invaluable resource for historians of Black, Asian and ethnic minority heritage and experiences, as well as wider histories of race and class in mid-20th century Britain. The Centre's focus on preserving the voices and stories of the local community as much as those of wider events is to its credit. The Centre is not a dusty old archive, inhabited only by conservative academics looking down their noses at so-called 'laymen'. Rather it promotes engagement with the local community, and is a comfortable and welcoming centre with staff who are personable and genuinely helpful.
Researching Pan-African Print activism
I first visited the RRRC in early February 2020 to supplement a chapter of my upcoming PhD thesis preliminarily titled 'Pan-African Print: Politics in Action – A Book History of the Pan-African Movement, 1935-1955'. My thesis is an ambitious project that utilises book history, a recent historiographical approach for the field of empire and anti-colonialism, to recast histories of Pan-Africanism. As such it relies heavily on printed materials and it was this that led me to the AIU's important collection.
Ras T. Makonnen and Black Manchester
My first chapter centres around two pamphlets, both edited by the (then) relatively unknown Ras T. Makonnen.1 A Guyanese Pan-Africanist, businessman, and activist, Makonnen was one of the architects of the important Manchester Pan-African Congress in 1945 as well as an influential editor who controlled the official rhetoric of the movement. However, he is often referred to primarily as a financier of the movement, and his political contributions to the movement are only now beginning to be critically engaged with.
Makonnen moved often throughout his life, first going from his hometown in what was then British Guiana to the capital, Georgetown, before travelling to the USA for education. He stayed in Texas before moving to the East Coast to study at Cornell and then moved around Europe, from Denmark to London, and most importantly Manchester. He travelled to Manchester in early 1939 and lived there until around 1955/56 when he moved to the soon to be independent Ghana. In these fifteen years in Manchester Makonnen rose to preside over a large business empire with several restaurants, clubs, a bookshop and a publishing house.
As a businessman his profits were reinvested either in the Pan-African movement, paying for journals to be printed, pamphlets to be distributed and so on, or spent to aid the local Black community. He would foot legal expense bills, offer subsidised meals in his restaurants, and put visitors up in hotels and flats. However, he contributed far more than purely financially and practically: his political contributions, his crafting of the official Pan-African rhetoric, his infusion of the movement's political approach with his own personal views, and his work as vocal activist and public speaker, all speak to his wider importance to the movement.
In a way, Manchester at that time can be seen as a miniature British Harlem, a hub of Black culture, business, and community. From Nat King Cole and his daughter to boxer Joe Louis, Makonnen hosted a wealth of famous faces. The 'little Harlem' within Manchester became an equally important centre for both Pan-Africanism and the Black community more broadly. With such influence across Manchester it soon became clear to me that this city was an important hub of Pan-African activity, and not just for the few days in October 1945 when the Congress was held.
Pan-Africanism in Manchester: 1995
Whilst looking into documents in the RRRC, I found that the Centre holds collections not just on the 1945 Congress but also on an event that was held 50 years on in 1995.2 In this collection I found, amongst other fascinating items, a series of interviews conducted around the 1995 event with participants and spectators of the 1945 Congress. One example is an interview with a man named Alfred Gaisie.3
Gaisie, an immigrant from the Gold Coast who came to England with his father, a worker for Unilever who shortly passed away, grew close to Makonnen. He touchingly calls him 'my father my uncle Mak' in the interview, and describes their relationship. Gaisie helped Makonnen establish his restaurants and played a role as courier between the Pan-Africanists in London and Makonnen in Manchester. His story is an illuminating and human account of the movement from the inside, often featuring characters such as future Kenyan president Jomo Kenyatta and Pan-African figurehead George Padmore. The Gaisie interview also helps uncover some of the work done around the 1945 Congress and highlights how Makonnen's influence in Manchester was a decisive factor in its planning. This interview, like many other materials in the RRRC, emphasises everyday experiences amidst extraordinary times. It offers a unique viewpoint into not just Pan-Africanism but Britain more generally in this period, telling the story of racism in Britain around WWII. Gaisie describes his issues with discrimination across society, unable to find work or even a place to live. He tells the stories of other members of the Black community similarly ostracised and oppressed. Finally, he recounts his tale through a pronounced tone of hope and reconciliation. For a man who had to work for all he had against the odds strewn in his path, Gaisie maintained a positive and optimistic outlook.
The contribution of Kath Locke
Many of the materials in the RRRC relating to Pan-Africanism in Manchester were donated by activist Kath Locke, an important figure in Manchester in her own right. Born in 1928 to a Nigerian father and white mother, she regularly encountered barriers due to the entrenched racism of the times. In the face of this, Kath Locke excelled at school and went on to become a teacher and an important campaigner in the local community. One of her efforts to raise awareness of the Black experience in Manchester and its rich history culminated in a plaque commemorating the 1945 Congress, another resulted in the formation of a women's centre with an emphasis on education, the Abasindi Co-operative. Her protests against the Poll Tax and racist educational policies further reinforced her role as a vocal socialist activist. Locke's archive donations reflect her instrumental role in the local community, and it is in this collection that many of the everyday voices of Manchester can be heard. These, like so many other materials in the RRRC, give space and agency to members of the Black communities in Manchester, and paint vivid pictures of daily experiences that underscore wider events. For any historians writing "histories from below", working class histories, or histories of race and gender in Britain, the RRRC's archive holds many invaluable primary and secondary source materials.
Role of the AIU Centre
These materials (both those relating to the 1945 Congress and those donated by Locke), are just a few of a broad catalogue the RRRC holds. Whilst looking at the collections online before my visit I was struck by the breadth and depth of what I had previously felt was a fairly limited set of collections. It is clear that this is an important archive of Black history and activism.
Even in these uncertain times where visiting archives is difficult, the RRRC has been open-minded and supportive, and against the backdrop of recent debates surrounding racism the Centre has an important voice recognising not just what it holds in its archives but also contributing to the current discussion. It speaks to the growing importance of such archives, acting as an example of how crucial archives and collections preserving Black voices and experiences are and will continue to be.
The Ahmed Iqbal Ullah Race Relations Resource Centre has been an important part of my upcoming thesis but more than that has demonstrated what archives can be more broadly. Both its collections and attitude are refreshing, and it stands as an important institution not just in Manchester, but in the UK as a whole. If we are going to get to grips with our problematic past in a similarly fragmented present, places like the RRRC will be central to this effort.
[1] The two journals I will be focusing on are International African Opinion, published by the International African Service Bureau from 1938-39, and Pan-Africa, published by the Pan African Federation 1947-48.
[2] Pan-African Congress 1945 and 1995 Archive, GB 3228 34/1, Ahmed Iqbal Ullah Race Relations Resource Centre, Manchester, UK.
[3] Alfred Gaisie and Robin Grinter Interview Transcript, GB 3228 34/3, Ahmed Iqbal Ullah Race Relations Resource Centre, Manchester University, Manchester, UK.